We can give you the smile you've always wanted!
We specialized in smile design
Call now and get up to
20% OFF Full Treatment
*Conditions apply
R

FREE Smile Design Consult ($150 Value)

R

FREE Full Mouth Scan Evaluation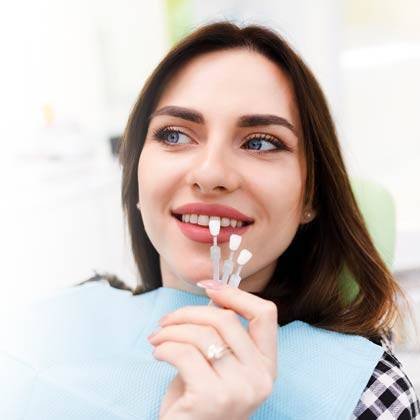 Daryl
Veneers Smile Design
Low Priced, High Quality Veneers
Get started with your new smile today!
Benefits of Porcelain Veneers
R

Veneers cosmetically repair teeth simply and easily

R

Dental veneers offer a natural appearance

R

Getting porcelain veneers is a minimally invasive procedure

R

Veneers are permanent and durable

R

Porcelain Veneers are a permanent tooth whitening option

R

Dental veneers are a worthwhile investment

Do you have a smile that makes you feel self-conscious? Do you hide your teeth in photographs or during job interviews? Dental veneers may be an excellent option for you if you want to hide unattractive dental issues including chipped, discolored, improperly spaced, or malformed teeth. Dental veneers offer a variety of potential advantages, which is why they are one of the most popular cosmetic dentistry procedures. Dental Boost can assist you in determining whether veneers are the best option for you.
What are the veneers made out of?
The veneers are Emax porcelain veneers. They are high strength porcelain and custom-made and designed for each individual.
Are veneers covered by insurance?
Yes – some insurances cover Veneers. Dental Boost accepts over 70 insurance plans and will work directly with your insurance.
How long do porcelain veneers last?
With reasonable precautions, dental veneers can last anywhere from 10 to 30 years. While you can eat almost anything you like, it is important to exercise reasonable precautions because dental veneers are not indestructible.
Do porcelain veneers stay white?
With proper care, your porcelain veneers will stay pearly white for as long as ten years, and by then, it will be time for the recommend repair or replacement of your veneer.
Do porcelain veneers break easily?
The porcelain used to make veneers is very hard, but it is slightly more brittle than your natural tooth enamel. This means your veneers are likely to chip or crack if you bite down on hard items like your fingernails, plastic packaging, or beer caps.
Are porcelain veneers stronger than real teeth?
One of the best things about veneers is that they are incredibly durable. Most veneers are made of porcelain, which you may think of as delicate material when you think of porcelain dolls or the like. However, when the thin porcelain veneers are bonded to your teeth, the materials becomes as strong as your real teeth.
"I have been visiting this dental office for years and have had many services performed. They are the BEST!! The whole staff is kind and professional and take very good care of their patients. They make sure patient is comfortable and as pain free as possible. I highly recommend Dr. Gabaldon and staff!!!"
Aurea Rodriguez

"Good services , I recommend so much , the people are so nice and friendly , take your appointment and enjoy the experience"
Jose Blequez

"Went here after getting a tooth extraction done at a different, less professional dentist. I was dealing with a lot of pain and inflammation. At Dental Boost they were able to see me within a few hours and provided comprehensive treatment. Not to mention the staff here are very professional and lovely."
Alejandra Herrera

"Fantastic after hours service. Really helped me get through the night worst night of my life with tooth ache with all your advice over the phone and fixed my dental issue the following day. Dr Gabaldon is fantastic and I will be a long term patient from here on. Thanks team."
Genesis Gonzalez

"Would recommend Dental Boost to anyone they are simply fantastic, made me very comfortable and welcome. All staff are very professional as well as accommodating, i had a tooth taken put which was pretty large and it was done quickly and efficiently, if i ever have any problems with my teeth again ill most certainly be back!"
Gretel Rodriguez